"PARTY!! Hold on to your booties, kids! I got something new for you! There was a king named Julien, whose kingdom all did hail. Until he lost his crown and his peeps were put in jail by an evil dude named Koto, causing Julien and Maurice to flee. Clover's hiding out with Sage, and Mort sacrificed his freedom on the way. Now, Julien... is lost at sea! Hey, King Julien, they took your "king" away. Quiet, Mort! Chapter One..."
~Opening of Season 1 Episode One, The Strife Aquatic
All Hail King Julien: Exiled is the name of the fifth season of All Hail King Julien that premiered on May 12, 2017. The season is a continuation to the 4th Season of the series which ended with a cliffhanger.
Plot
After losing his kingdom to the evil hands of King Koto, King Julien, Maurice and Pancho ran away heading for an unknown destination to try and look for help so that they can defeat Koto. All sorts of obstacles blocked the way, as they bumped into sirens, a giant tentacle, and even have to face some cocky dolphins along the way. Meanwhile, Clover and Sage headed to Sage's guru, the Jarsh Jarsh, to get an ultimate weapon. Mort tried to lead all the prisoners to freedom and take back the kingdom.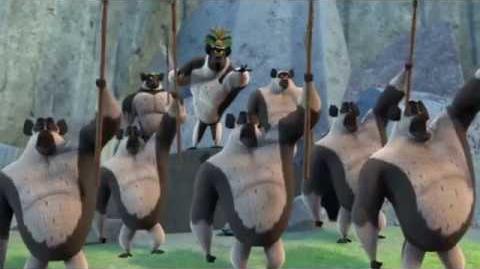 Episodes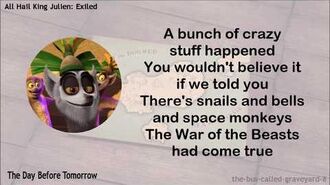 Characters
Main
Recurring
Minor
Cast
Community content is available under
CC-BY-SA
unless otherwise noted.