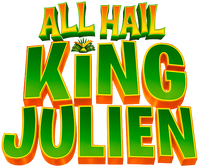 All Hail King Julien
portal page
---
All Hail King Julien is an award-winning Netflix original animated series which debuted on the 19th of December 2014. It has a total of 78 episodes in five seasons and one special season, and ended on the 1st of December 2017. You can learn more about All Hail King Julien on the Madagascar Wiki, starting here on the portal page.
---
All Hail King Julien is the second TV series in the Madagascar franchise that debuted on Netflix on December 19, 2014.
The series is a prequel to the franchise, taking place before the events of the first film. The cliffhanger at the end of Season 4 which was released on November 11, 2016, and continued with the fifth season named, All Hail King Julien: Exiled which premiered on May 12, 2017. The series is then continued as All Hail King Julien again, in their fifth (sixth if Exiled is included) and final season, with the episode The End is Here wrapping things up with Alex crash landing on the island.
Plot
All Hail King Julien follows the adventures of the illustrious King Julien XIII, before the events of Madagascar, as he rules his great kingdom after being crowned as king by his own Uncle. His Uncle, whose purpose is to actually kill King Julien and reclaim his throne, causes a big threat to the kingdom; and even beyond that King Julien bumps into a lot of other enemies including the evil fanaloka genius, Karl, another lemur king in disguise named Koto, the leader of the fossa pack known as Mary Ann and a lot other foes with intentions to bring him down, even from inside his own kingdom. But with the help of his loyal crew, Maurice, Clover, and Mort, he rules as the kingdom's probably greatest king in their entire history!
Characters
Main Characters
Recurring Characters
Foreign Allies
Villains
Episodes
Season 1
Season 2
Season 3
Season 4
Exiled
(see at All Hail King Julien: Exiled)
Season 5
Cast
Additional voices
Crew
Christo Stamboliev - Director
Matt Engstrom - Director
James 'Wootie' Wooton - Unit Director
Mitch Watson - Executive Producer
Frederick Wiedmann - Music Composer
Andy Gaskill - Storyboard
Stephen Heneveld - Storyboard
Emmanuel Deligiannis - Storyboard
Sharon Flynn - Script Coordinator
Elliot Owen - Script Coordinator
Lisa Schaffer - Voice Director
Collette Sunderman - Voice Director
Reception
This series has received an Emmy for Outstanding Program. Unlike the previous Madagascar series, it is praised and adored by the Madagascar fanbase for being closer to the source material, the spectacular writing, the animation and how King Julien is portrayed.
All Hail King Julien also led the 45th Daytime Emmy Award - Animated Program Nominees list, with the most nominations that year, being nominated 7 times combined with the Exiled addendum. This caught the attention of a lot of entertainment magazines and news portals.[1][2]
They later brought home 2 awards, Outstanding Sound Editing - Animation, and Outstanding Sound Mixing - Animation, which were both won by All Hail King Julien: Exiled.
References
↑ 'King Julien' Tops Daytime Emmys Animation Nominees - Animation World Network https://www.awn.com/news/king-julien-tops-daytime-emmys-animation-nominees
↑ 45th Daytime Emmy Award Nominees Announced - Animation Magazine http://www.animationmagazine.net/events/45th-daytime-emmy-award-nominees-announced/
External links
---
All Hail King Julien
on Madagascar Wiki
Useful links regarding All Hail King Julien:
External links for All Hail King Julien:
Recent Episode:
The End is Here
Latest News on All Hail King Julien
20th December 2019 - #AHKJweek2019 officially comes to an end, after a successful week of celebrating the show's 5 years of legacy.
All Hail King Julien has made several references to the popular science fiction film franchise, Star Wars. One of the most notable ones are the title of the eleventh episode of the third season, Revenge of the Prom (Star Wars Episode III: Revenge of the Sith), Karl's massive space station, the Karl-Star (Death Star), and also King Julien's quote from Episode 6 of Season 2, Body Double "Help me Sage Moondancer, you're my only hope." (Princess Leia: "Help me Obi-Wan Kenobi. You're my only hope")
Category Listing
Trending pages
All items (214)
Community content is available under
CC-BY-SA
unless otherwise noted.