Obi-Wan Finale - The Loop
Play Sound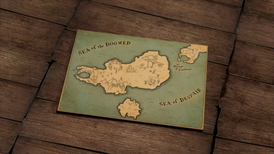 The Island of Madagascar is an island which belongs to the continent of Africa and is the primary location of Madagascar and All Hail King Julien. The island consists of several nations, most notably the Kingdom of Madagascar, which was the royal seat for King Koto and 13 kings of the Julien lineage until the powers of the kingdom were handed down by King Julien The 13th to Gecko Steve, and the Fossa Territory.
The island is located north west to the Sea of Despair, south east to the Sea of the Doomed and west to the Passage of Loneliness.
Neighboring areas include the Siren Island, Monkey Island, Feartopia and the Mountain Lemur Kingdom.
Trivia
The population of the Kingdom of Madagascar consists of the majority of the population of the island.
In the first film, the island itself is only seen twice, on a map in the boat, and on The Plane.
The island is seen at the beginning of Madagascar: Escape 2 Africa, but was never seen in any other films and series (aside Madagascar and All Hail King Julien), the island is only mentioned in Madagascar 3: Europe's Most Wanted as a shipping crate, and was also mentioned as a shipping package in Penguins Of Madagascar The Movie, the island did appear as the main location in Merry Madagascar, only shown in flashbacks in The Penguins Of Madagascar TV Series Episode, Happy King Julien Day!, as well as being the primary race tracks in Madagascar Kartz and DreamWorks Super Star Kartz, despite their name having the term Madagascar.
The island is not geographically like the main island, as well as there being a mainland island, mentioned in 'There Will be Juice' .