Cobra Kai Season 4 - The Loop
Play Sound

Madagascar: A Little Wild is an 2020 animated series for the Madagascar franchise. It centers around the Zoosters as children and their adventures in the Central Park Zoo.
On 17th January, 2020, it was confirmed that the series will be released on streaming services Hulu and PeacockTV.
Synopsis
Madagascar: A Little Wild features the lovable foursome Alex the Lion, Marty the Zebra, Melman the Giraffe and Gloria the Hippo. Capturing the iconic personalities of each of the four dynamos, Madagascar: A Little Wild showcases the team as kids residing in their rescue habitat at the Central Park Zoo. They might be small, but like everybody who lands in New York City, these little guys have big dreams and Madagascar: A Little Wild will follow all of their adventures. The series is executive produced by Johanna Stein (Kung Fu Panda: The Paws of Destiny).
Seasons
Season 1
Season 2
Season 3
Season 4
Season 5
Season 6
Cast
Crew
Johanna Stein - Executive Producer
Dana Starfield - Developer, Writer, Story Editor, Producer
Stacey Evans Morgan - Writer
Gary Wilson - Staff Writer
Erik Kling - Director
History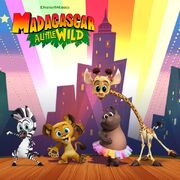 Later in April 2017, voice of Skipper and director Tom McGrath, said about the Madagascar franchise: "There are things in the works, nothing is announced yet, but I think they'll show their faces once more..."
On July 12, 2018, DreamWorks filed a trademark application for the title "DREAMWORKS MADAGASCAR: A LITTLE WILD", before it was discovered by the community on the 20th of July. The application then went under review on the 16th of October that year, before the review was completed on the 22nd of January the following year.
On the 23rd of April 2019, the trademark status changed from 'PUBLICATION/ISSUE REVIEW COMPLETE', to 'NOTICE OF ALLOWANCE - ISSUED'. According to TradeMarkia, this only applies to intent-to-use applications. The application has passed both the USPTO (United States Patent and Trademark Office)'s internal review and the opposition period. In other words, the application is ready to register and only requires an acceptable Statement of Use to be submitted.
On January 17, 2020, Hulu released a statement that Madagascar: A Little Wild was to be one of three new series as part of a deal with DreamWorks Animation. The synopsis was confirmed and a promo image was released.
The release date was later confirmed to be September 7th 2020, as a trailer was revealed by DreamWorks.
Gallery
Videos
Trivia
This is the first Madagascar series that is about the original 4 core characters from the movies.
This is the first Madagascar series that doesn't feature King Julien, Maurice or Mort since this is set years before Alex, Gloria, Melman and Marty arrived in Madagascar.
The Emmy nominated PBS Kids television series for preschoolers, Elinor Wonders Why, premiered on the release date of the first season.
This is the first time the franchise got a TV-G rating.