‍
COMMUNITY EVENT PORTAL

brought to you by the Madagascar Fandom
‍
‍
INTRODUCTION
All Hail King Julien Week is a week-long community project organised by the Madagascar Fandom where fans all across the world will dedicate the entire week to All Hail King Julien, in conjunction with the 5th anniversary of the swagnificent series. This event shall be running from the 13th to the 19th of December 2019 across all social media, and every day of the week shall have their own themes or prompts for the community to base their daily content on.
ABOUT
| | |
| --- | --- |
| All Hail King Julien Week is an event that shall run from 13th to 19th December, where during this duration of time fans shall dedicate the week for All Hail King Julien, by posting things related to the series across any social media, with the tag #AHKJweek2019. Each day of the week shall have a theme or prompt to base daily contents on, and on the day of the 5th anniversary itself, that is on the 19th of December 2019 there shall be a free day where participants can post on whatever topic they want, without having to follow a certain theme. Even on the themed days, participants are not restricted only to certain themes and can explore on their own creative ideas. | |
For this project, Madagascar Wiki serves as a platform of promotion as well as a place for people to share their content through the
discussions feature
.
THEmes
Throughout the span of seven days, All Hail King Julien Week shall have its daily themes, all based on the spirit of the show. These themes are:

Day 1: Party (Friday, December 13th)
Day 2: Family (Saturday, December 14th)
Day 3: Villains (Sunday, December 15th)
Day 4: Weirdness (Monday, December 16th)
Day 5: Romance (Tuesday, December 17th)
Day 6: Memories (Wednesday, December 18th)
Day 7: Free Day (Thursday, December 19th)
links & OTHER INFO
All Hail King Julien Week is a collaborative project ran by the Madagascar Fandom, and coordinated by Purple Walskurco. You can find more information on the announcement post here.
Aside from that, below are some other useful links regarding this event.

Project organisers:

Purple Walskurco - Global lead, Tumblr lead
Contact: purplewalskurco @ Tumblr
Brendan Boman - Wiki & promotions manager
Contact: Brendan Boman @ Madagascar Wiki
Samantha - Twitter lead
Contact: holymangos @ Twitter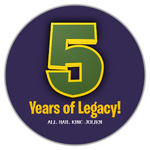 Community content is available under
CC-BY-SA
unless otherwise noted.