Welcome to Madagascar Wiki!
An online community wiki dedicated to the great Madagascar franchise.
We currently have 3,041 pages, and 8,892 images on the Wiki.
[1st July, 2021]
Main Page Redesign & the New Future for the Wiki
With the introduction of the Unified Community Experience (UCX) along with the new FandomDesktop skin, Madagascar Wiki has gone along to adapt its main page to the new system, allowing for a much neater and smooth experience. The main page and the entire wiki shall go through a gradual change of design and format in the near future, with the advise and suggestions from the community as it goes on.
As mentioned, along with this, there will be many improvements to the format and overall system of the wiki. There will be full restructuring of the wiki guidelines, pages, and even certain integral elements. This would all go through with the opinion of the community borne in mind, as the purpose of these changes will mainly be to help ease the usage of the wiki by the users.
The Penguins of Madagascar Characters

All Hail King Julien Characters

---
Suggest a Featured Content!
---
---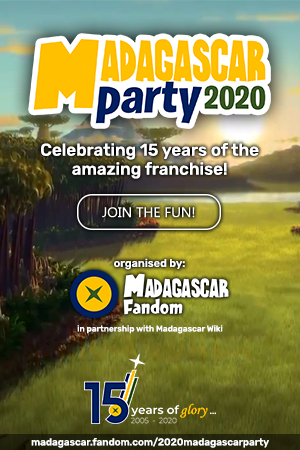 ---
---
---
---
Madagascar Wiki is also available in these languages
---