Welcome to Madagascar Wiki!
An online community wiki dedicated to the great Madagascar franchise.
We currently have 3,107 pages, and 9,022 images on the Wiki.
[1st October, 2021]
Update on the Administration
The Madagascar Wiki went under a new administration in 2017 with the election of user Brendan Boman and AnnasElephants as the new bureaucrats of the Wiki. Much time has passed ever since, and the website and community has evolved into a different place with a fresh and different atmosphere. However, such also brings forth many changes to many core elements.
Brendan Boman has announced his resignation from the administration effective 1st December 2021, and the administration has also appointed a new administrator, EmmyAnimal as well as Gabriel417 and Mister Manhattan as new moderators. Shortly after, Plantbased3 was also appointed as a moderator on personal request that was approved by AnnasElephants and EmmyAnimal. The new administrator and moderators are hoped to be able to bring forth a brighter future for the wiki.
The Penguins of Madagascar Characters

All Hail King Julien Characters

---
Suggest a Featured Content!
---
---
|meta
|chat
|utility
|voice
---
---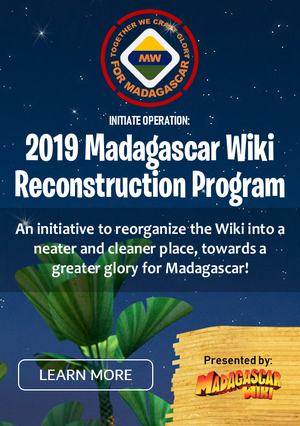 ---
---
Madagascar Wiki is also available in these languages
---