Doctor Strange in The Multiverse o Madness - The Loop
Play Sound

When King Julien learns that Clover will marry Sage, he sets out to prepare the kingdom for post-Clover attacks.
Plot
The episode starts when Clover says to King Julien, Mort and Maurice that she is planning to marry Sage. King Julien comments that her morning commute to work will be ridiculous, as the Mountain Lemur Kingdom is far away. Here Clover announces that marying Sage will make her the queen, so she cannot stay in the Lemur kingdom. This causes King Julien to be left heartbroken, his eyes are seen visibly widen in sorrow and is to whimper in pain. He goes to his room and states to Maurice and Mort that he figured if Clover left, it was if she was eaten while trying to save him. This shows that he never thought that Clover, one of his best friends and a member of his Royal Circle, would leave him. King Julien inquires Maurice whether there is "no loyalty" left anymore. Though Mort suggest to lock Clover up, King Julien decides to help her, showing his great qualities which a great friend should possess, and to be supportive, so Clover would get the promotion she always derserve. However, he does create mayhem and problems when he announces Clover's decision to the kingdom. However, Maurice fixes it. King Julien announces to his kingdom that they must now make an army to protect the kingdom, in the abscence of Clover.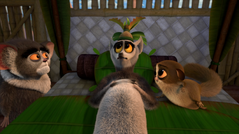 Meanwhile, in the Mountain Lemur Kingdom, Clover goes to meet Sage, thinking he will propose to her. But, he says that he will marry Crimson, which makes Clover heartbroken and furious. King Julien trains his army to defend themselves with various activities. He first tries to make them tough, gives each member of the army a nickname and trains them to make their bed. To add humor, Abner causes the hut to explode since he hid the explosives inside his bed. Clover goes on a rampage through the jungle, but her Grandma Rose's spirit comes to assist her, telling her not to give up. Horst, who escaped the training, is enjoying his day with Mary Ann when Bone Foosa overhears Horst saying that Clover is leaving. He then rallies up the foosa to attack the lemurs. King Julien plans an obstacle course but for King Julien's dismay, the kingdom fails miserably. However, he only shows the highlight reel because of budget and time constraints. King Julien says that there are going to have a war game and gives Ted to do the rest. Comedy is added when Hector and Mort have a small conversation mentally. Meanwhile, Clover tries her best to win Sage's heart using High Protein drinks, violent stories and abiding to traditional mountain lemur practices.
Horst and Mary Ann was surrounded by the foosa and was tied up. At the fox hole, Xixi comes, which adds humor. The army is doing a pretend battle. King Julien then kicks Xixi out since she gives everything to the enemy. Out of the blue, they hear a howling. Mort, Pancho and Butterfish discover it is foosa. Maurice uses his telescope to see whats happening, but King Julien says that they are dead. Maurice says that this is pretend and only been ten minutes. This adds humor. When Mort reports this to Julien while he kisses King Julien's feet, he thinks they are rats in Ted's surprise costumes and plots to trap them. Clover leaves the Mountain Lemur Kingdom, while Julien and others trap the foosa whom they believe are rats. Horst mauls himself and unties Mary Ann and himself. King Julien and the lemurs reveal themselves as real foosa and surround the lemurs after Ted arrives and says that his surprise is "Snicker Doodles." Mary Ann, along with Horst, rescue the lemurs and chase away the other foosa. At the end, Clover comes back again, but Sage abruptly lands in front of her and proposes to her. She happily says yes with the others amazingly look on.
---
All Hail King Julien Episodes [Expand/Collapse]
Explore Madagascar Wiki: