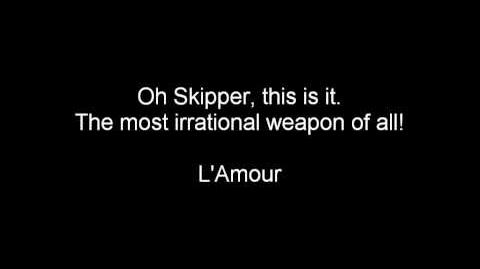 ----
♪Kowalski: This one goes out to all the fine chicken ladies.
Hen: Kowalski? What?
Kowalski: Put down that chicken feed, 'cause I got what you need. The Kowalski.
Hen: Um, what are you doing?
Skipper: Somehow I always knew he'd go out this way, RICO! Put the man out of his misery.
Rico upchucks a lit stick of dynamite but extinguishes it.
Kowalski: No, Skipper, this is it, the most irrational weapon of all!
L'amore...
Hen: That's idiotic!
Kowalski: Tell it to the swagger end, baby.
Darling, I'm a start a scandal, 'cause you know that you can't handle the Kowalski.
Hen: No! I'm above this! The brain is stronger than desire.
Kowalski: Ain't nothing stronger than desire.
Cerebral poultry sista, I'll put you on my sultry list-a. The Kowalski.

Mmm, sing it with me now!♪
Community content is available under
CC-BY-SA
unless otherwise noted.